By Ron Amadeo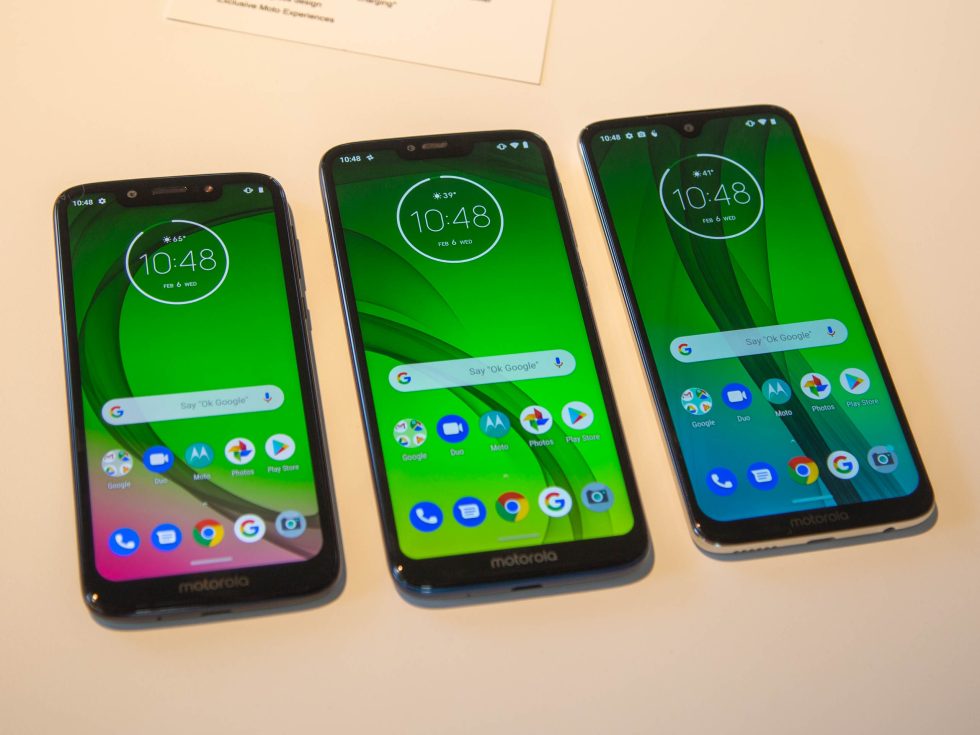 From left to right: The Moto G7 Play, Moto G7 Power, and Moto G7. [credit:
Ron Amadeo ]
Today, Motorola is announcing the new Moto G series for 2019: the Moto G7 family. There are three devices to take a look at: the Moto G7, the Moto G7 Power, and the Moto G7 Play. Along with the phones from Nokia, members of the G series are among those rare smartphones that can be had for under $400, and that makes them pretty interesting.
We were able to spend some hands-on time with all of them, but before we get into the details, let's load up a big ol' spec sheet and talk numbers.
MOTO G7
MOTO G7 POWER
MOTO G7 PLAY
STARTING PRICE
$299
$249
$199
SCREEN
6.2″ 2270×1080 LCD
6.2″ 1520×720 LCD
5.7″ 1512×720 LCD
CPU
Snapdragon 632: Eight 1.8Ghz Kryo 250 (semi-custom Cortex-A73) CPU Cores, 14nm
GPU
Adreno 506
RAM
4GB
3GB
2GB
STORAGE
64GB
32GB
32GB
CAMERA
Rear: 12MP (f1.8, 1.25µm pixel)
+ 5MP depth sensorFront: 8MP (f2.2 1.12µm pixel)A million extra features
Rear: 12MP (f2.0, 1.25µm pixel)

Front: 8MP (f2.2, 1.12µm pixel)

Rear: 13MP (f2.0, 1.12µm pixel)

Front: 8MP (f2.2, 1.12µm pixel),
Front flash

PORTS
USB-C, headphone jack
BATTERY
3000mAh
15W fast charging
5000mAh
15W fast charging
3000mAh
10W charging
BACK MATERIAL
Gorilla Glass
Clear plastic
Opaque plastic
NOTCH SIZE
Small
Medium
Large
At first the spec sheet seems fine. We've got easy $50 increments between devices, and while the SoC always stays the same, more expensive devices get better screens, more RAM, more storage and better cameras. Then we get to the battery section and things get crazy. The more expensive device has a smaller battery!
Read 8 remaining paragraphs | Comments
Source:: Ars Tecnica
Follow Tim on Twitter
@tl1000rzx2
Or check out my other Tablet Site:
THE Tablet Test Server
Or perhaps you need
web hosting for a mere $5.95/month?.
HP Laptops at Super Low Prices!