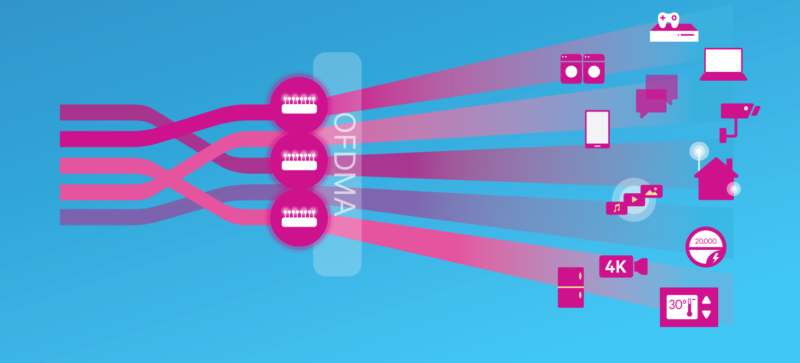 The 802.11ac Wi-Fi standard has been around for a few years now, long enough that it has found its way into all but the very cheapest phones and laptops. It's going to be the mainstream standard for at least a couple more years, but as of today its replacement has become visible on the horizon.
Qualcomm has announced a pair of chips compatible with the new 802.11ax standard. The IPQ8074 is a quad-core 14nm SoC for wireless routers and enterprise access points, and it promises peak speeds of as much as 4.8Gbps across eight 5GHz streams and four 2.4GHz streams, though that peak theoretical speed won't necessarily be what you can expect to see from client devices. On the client side, the QCA6290 chip for laptops, smartphones, and tablets promises peak speeds of 1.775Gbps across two streams.
Qualcomm isn't the first company to announce 802.11ax products—Quantenna announced a router SoC back in October—but Qualcomm is definitely the biggest company to do so and the QCA6290 does appear to be the first client-side 802.11ax chip that anyone has announced. The final 802.11ax specification hasn't actually been finalized yet and it's not expected to be finished until 2019, but this is hardly the first time that device makers have attempted to get a jump on new Wi-Fi technologies by announcing and releasing "draft-compliant" devices. Because the standard is still so new, let's run through 802.11ax's main benefits and where it will improve on today's 802.11ac devices.
Read 6 remaining paragraphs | Comments
Source:: Ars Technica Gadgets
Follow Tim on Twitter
@tl1000rzx2
Or check out my other Tablet Site:
THE Tablet Test Server
Or you could get your own
free WordPress site for free right now, here.
HP Laptops at Super Low Prices!