By James A.
ASUS obviously brought ROG products to CES 2019, but not the kind you'd expect. They showcased an amazing new tablet, that sounds better endowed than your average gaming laptop. It's called ASUS ROG Mothership.
The ASUS ROG Mothership packs a 17.3 inch display with a 1920 x 1080 pixel resolution, but it's no regular screen. It's got an IPS LCD panel with 144 Hz refresh rate. Inside the slate we find an Intel Core i9-8950K processor, as well as the NVIDIA GeForce RTX 2080 graphics and support for up to 64 GB of RAM. There's also 3 PCIe NVMe SSDs in the mix and two 280W charging ports.
The behemoth weighs 10.3 pounds, which is definitely not predisposed to shifting around. It's heavier than most laptops to be honest. The ROG Mothership comes with a built in kickstand, which turns the tablet into sort of a fixed monitor. There's also a detachable keyboard and built in battery. By the way the keyboard has cool lighting and it can fold in half when not being attached, for easier transport.
Not all specs were unveiled, but we do know there's also a 4K version, plus the promise of WiFi ax and 2.5G Ethernet. It measures 29.9 mm in thickness and the keyboard can hook up wirelessly or wired. I think we'd rather call this a sort of portable gaming All in One PC, rather than a tablet…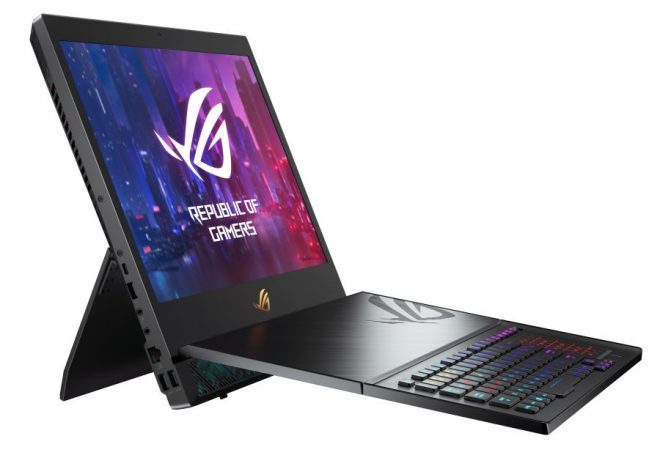 The post CES 2019: ASUS ROG Mothership is a Huge Gaming Tablet, With 17.3 Inch Screen, RTX 2080 Graphics appeared first on Tablet News.
Source:: Tablet News
Follow Tim on Twitter
@tl1000rzx2
Or check out my other Tablet Site:
THE Tablet Test Server
Or perhaps you need
web hosting for a mere $5.95/month?.
HP Laptops at Super Low Prices!