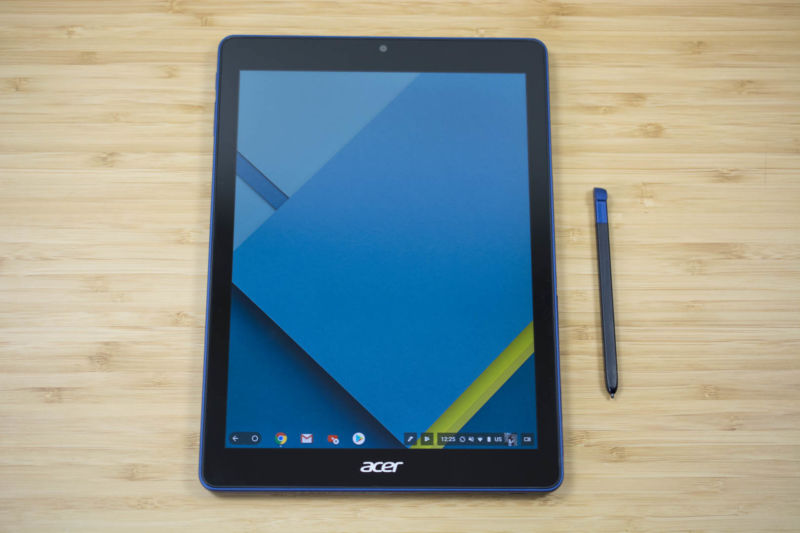 Chrome OS took over schools with clamshells, but now Google is shaking things up with slabs. After a spring announcement, Acer has built the first Chrome OS tablet, the $329 Chromebook Tab 10, to give teachers and students a more flexible device to use for schoolwork both in and out of the classroom.
Some might perk up at the idea of a lightweight yet durable tablet with a 2048×1536 display and a built-in Wacom stylus running Chrome OS, but this device (like many other Chrome OS devices) will only be sold in the education market. While regular consumers may not be able to get their hands on the Chromebook Tab 10, however, there will be more Chrome OS tablets to come that will be sold to the general public.
After spending some time with this inaugural Chrome OS tablet, it would be remiss to think that it's essentially the same thing as an Android tablet—devices that are largely unsupported at this point. We may not be traditional educators or students at this point, but Ars tested the Chromebook Tab 10 with a few things in mind: how does the Chrome OS experience translate on a tablet sans-keyboard? And, perhaps more importantly, can Chrome OS bring Google's tablet category back from the dead?
Read 44 remaining paragraphs | Comments
Source:: Ars Technica Gadgets
Follow Tim on Twitter
@tl1000rzx2
Or check out my other Tablet Site:
THE Tablet Test Server
Or perhaps you need
web hosting for a mere $5.95/month?.
HP Laptops at Super Low Prices!