By Peter Bright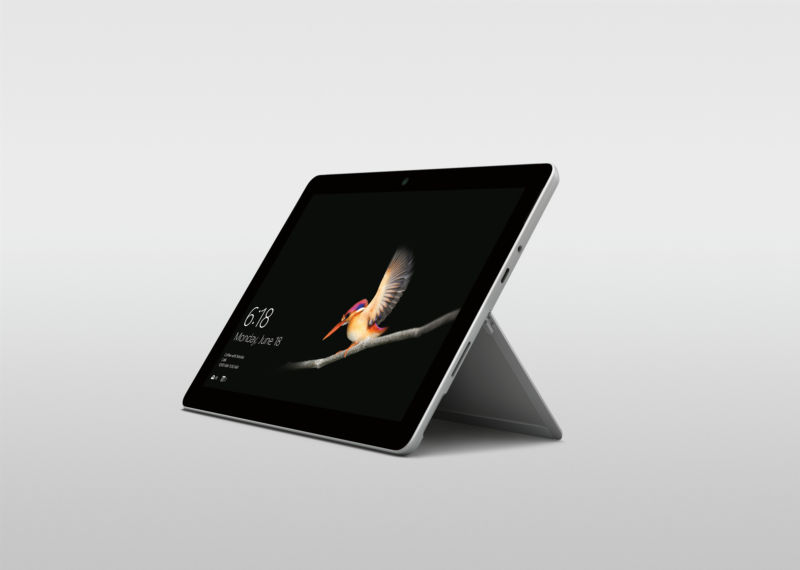 Confirming weeks of leaks and speculation, Microsoft today announced the latest member of the Surface computer family: Surface Go.
If you remember the long-discontinued Surface 3—Microsoft's last attempt at a cheap(er) tablet—Surface Go is what a Surface 4 probably would have been if the company was still using that branding. Compared to the Surface Pro, it has a smaller screen (10in, 1800×1200), a weaker processor (an Intel Pentium Gold 4415Y, which is a two-core, four-thread Kaby Lake chip that was launched about 18 months ago), slower, smaller storage (64GB, using an eMMC interface), and reduced battery life (estimated at 9 hours). But it's cheaper. A lot cheaper: the base model costs just $399, compared to $799 for the base Surface Pro.
Even with the reduced price, it retains all the major Surface design elements: a variable position kickstand, 8MP rear/5MP front cameras with Windows Hello facial recognition, the Surface Connect magnetic charging and dock port, and a 10-finger multitouch screen with Surface Pen support. It retains the microSDXC card reader and 3.5mm headset jack and adds to this a USB 3.1 generation 1 Type-C port. As with other Surface tablets, Surface Go supports the Type Cover detachable keyboard-covers, though because of its new smaller size, it'll need new smaller Type Covers. Microsoft also has a new smaller Surface Mobile Mouse if you want an external pointing device.
A video? Why yes….
Read 4 remaining paragraphs | Comments
Source:: Ars Technica Gadgets
Follow Tim on Twitter
@tl1000rzx2
Or check out my other Tablet Site:
THE Tablet Test Server
Or perhaps you need
web hosting for a mere $5.95/month?.
HP Laptops at Super Low Prices!