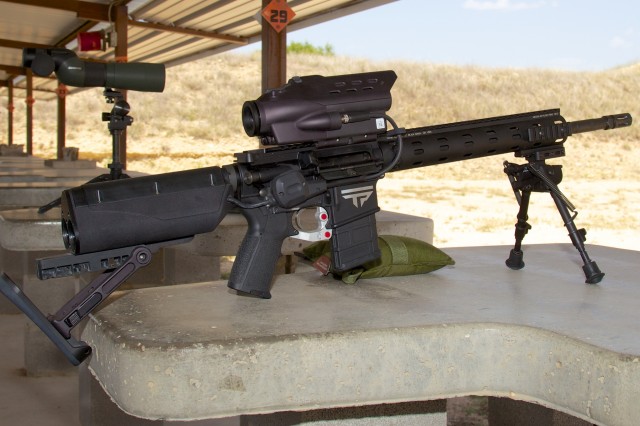 A near-production model of TrackingPoint's AR 556, the 5.56mm NATO precision guided firearm.
Lee Hutchinson
Since first running into TrackingPoint at CES 2013, we've kept tabs on the Austin-based company and its Linux-powered rifles, which it collectively calls "Precision Guided Firearms," or PGFs. We got to spend a few hours on the range with TrackingPoint's first round of near-production bolt-action weapons last March, when my photojournalist buddy Steven Michael nailed a target at 1,008 yards—about 0.91 kilometers—on his first try, in spite of never having fired a rifle before.
But big, heavy, bolt-action rifles were only the beginning, with the underlying idea being that the company would scale its weapons both up and also down in size. And, last month, we day tripped back out to the Best of the West range just outside of Austin in Liberty Hill to lay hands on TrackingPoint's newest set of PGFs, the TP AR 556 and TP AR 762. Unlike the big XS-series long rifles we fired last time, these newest PGFs are semiautomatic carbines—the type of weapon that the media usually (and incorrectly) refers to as "assault rifles."
But the smaller form factor wasn't the only thing that TrackingPoint had on tap for our demo that day. Last trip out, the highlight was hitting targets at 1,000 yards; this time, we'd be aiming at targets a bit closer in… but aiming through a tiny wearable screen while looking backward, over the shoulder.
Read 38 remaining paragraphs | Comments
Via: Ars Technica Gadgets
Linux and guns, they go together like baseball and beer.
Tim
Follow Tim on Twitter
@tl1000rzx2
Or check out my other Tablet Site:
THE Tablet Test Server
Or you could get your own
free WordPress site for free right now, here.
HP Laptops at Super Low Prices!