By Mark Walton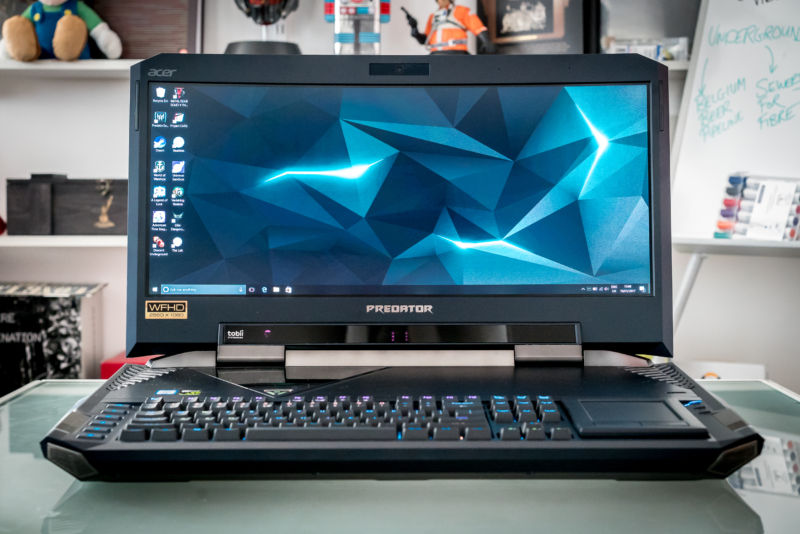 You have to wonder what the thinking was behind the Acer Predator 21X, "The world's first curved-screen laptop." After all, with its obscene 21-inch 21:9 display, full-width mechanical keyboard, and dual Nvidia GTX 1080 graphics cards, the 21X isn't so much a laptop as it is an 8-kilogram eulogy to frivolousness. Very few need this much graphical grunt in a desktop, let alone a laptop sporting a display with a paltry 2560×1080 pixel resolution—even then, with the 21X costing a whopping $9000 (probably £9000), a similarly specced desktop would be a lot cheaper.
And yet, seeing the 21X in the flesh, it's hard not to marvel at the sheer ridiculousness of it all, or admire the bravado behind a laptop likely concocted after one too many beers during a Friday afternoon marketing meeting. Even the box it comes in isn't your typical cardboard affair. Instead, there's a ginormous flight case, complete with custom foam cutouts for the two 300W power supplies, wrist rest, and X-shaped power supply holder. Suffice it to say, the 21X is unlikely to fit in the boot of a car, let alone an aircraft's overhead locker.
Free the 21X from its foamy confinement—something not recommended for those with back problems—and its mammoth scale becomes apparent. At roughly 7cm (2.75in) at its thickest point, and roughly 60cm wide, the 21X is very much a desktop replacement, rather than a luggable laptop. That said, there is a battery inside that Acer claims is good for around 2-3 hours of use, depending on how heavily you tax the graphics cards; in reality, I doubt you'd get much more than an hour of use in a modern 3D game.
Read 12 remaining paragraphs | Comments
Source:: Ars Technica Gadgets
Follow Tim on Twitter
@tl1000rzx2
Or check out my other Tablet Site:
THE Tablet Test Server
Or you could get your own
free WordPress site for free right now, here.
HP Laptops at Super Low Prices!